Advanced Search Plugin Like Facebook Search
$59
Advanced Search now fully supports Responsive and Mobile View
"Search" is one of the necessary key features of every social networking site. It provides users an easier access to exactly what they're looking for. Social Engine's built-in search function somewhat meets that basic concept; however it still lacks of usability and visual effect. To cure that headache, let us introduce to you our Advanced Search plugin.
Advanced Search is a nice add-on that fetches all relevant information site-wide and displays them in a neat and clean way. Our Advanced Search plugin provides a single-line text box with the dedicated function of accepting user input / keywords to be searched for in the entire database. Especially, with our "Search Suggestion", users can save more time in searching and viewing the results, as the consequences it will bring users to the next level of user experience. Each plugin has its own search landing page which makes it easier to member to search for the item that belongs to a certain plugin. Last but not least, all of the results will be listed on the well-designed search pages which are categorized by filters/plugins; and they will also be listed under different attractive views such as list view, grid view, and pinboard view.
Best compatibility: SE 4.8.x – 4.9.x
Product version: 4.04p4
License key

This plugin requires YouNetCore plugin to verify license
License key and YouNetCore plugin could be found under your Client Area
Notice: Advanced Search Plugin works well with standard SE default template and our Customized ones. If you use a custom template, please submit a ticket in the Client Area to get help from us. 
Make sure you update the following plugins to the latest versions if you have them already installed on your site (if you don't have any of these, you can safely ignore this notice) to have latest layout design
Dependency:
Knowledge Base: http://knowledgebase.younetco.com/category/social-engine-products/advanced-search-plugin-like-facebook-search
Demo: 
Improvement
Key Features
Support Mobile View, Responsive layout
Configurable Categories – selecting which categories / plugins are shown and will be used in search
Search suggestion – saving more time and improving user experience
Search Pages are widgetized pages and admin can drag and drop widget. Admin can enable/disable some specific search pages
Each plugin can have a search page as landing page
Admin can select some specific plugins for searching
Provide more attractive views: List view, Grid view, Pinboard view
Add more suggestions for main plugins on mini menu bar
Top keyword – one of the criteria for search suggestion. Top keywords are the common phrases that members have mostly searched for
Compatible with YouNetCo's and almost of other core plugins: Members and Advanced Member, Blog and Advanced Blog, Event and Advanced Event, Video And Advanced Video, Classifieds, Polls, Auction, Album and Advanced Album, Contest, File Sharing, Forum and Advanced Forum, Group and Advanced Group, GroupBuy, Fundraising, Music, Mp3 Music Selling, Wiki, Social Store, Business Directory, Multiple Listing, Ultimate Social Music, Job Posting, Resume, Feedback, Video Channel
Front – End
Auto suggest when users input keyword into search box
All result page displays results from all plugins plus options to show/hide result from individual plugins
Search landing page for every supported plugin
3 view modes supported: Grid, List, and Pinboard on some pages
Filter option allows users to filter out unnecessary results
Ajax loading improves performance
Trending keyword
FAQ
Support YouNet Responsive Template and mobile View
Back – End
Global Setting – define general settings for Advanced Search

Number of Search result will be shown in suggested list

Manage Content Type – Manage content search options that appear in the select box

Disabled/Enable a plugin that appears in content type select box
Allow/Disallow results from a plugin to appear in auto suggest list

Manage Plugins – Manage plugins that display in filter section. 

Disable/Enable a plugin on filter list

Manage FAQs – Add/Remove FAQs appearing on FAQs page

Add/Remove FAQs that appear in FAQ page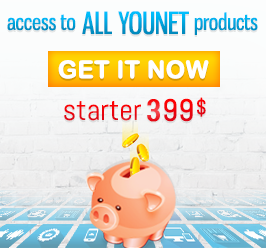 Supported Browser
IE9+, Firefox, Safari, Chrome
Support System
http://socialengine.younetco.com/client
Installation Guide
After purchase our product, an email will be sent to you immediately in which an installation guide is included to instruct you on how to install the product. If you purchase product with installation option, please submit ticket in the Client Area with FTP, site URL, and Site Admin account for us to install.
Refund & support policy
http://socialengine.younetco.com/policy
Support Time Monday-Friday, 8:30 AM-5:30 PM, GMT+7
Notice: For some reasons [email problem] that you do not receive email from us for product information, please contact us at info [at] younetco.com.