Together with the growing of internet, as we can see nowadays, e-advertising has enormously extended its content and presentation to viewers.  However, in a social network, they are still having limitation due to the technology provided. Multiple Listings is developed to be a better choice for community's owner to not only shorten this gap but also to enrich their social network to all the members.
Multiple Listings plugin enables your social network to have a solid and incredible e-advertising. Your site is able to have different independent listing types with 5 different layouts of their choices, 2 styles of Features Listing's slider and much more. In addition, many actions on listings such as compare listing, add a listing to wishlist, rate/like/comment/share etc…. allow users to perform to. Last but not least, the beauty of User Interface, Navigation, and different layouts would be an excellent add-on to your social network.
Best compatibility: SE 4.8.x – 4.10.x
Product version: 4.01p4
License key
This module requires YouNetCore plugin to verify the license.
License key and YouNetCore plugin could be found under your Client Area.
Notice
If you are using our Responsive Template, you should upgrade the YouNet Core Template to 4.04p1 to support full features of Multiple Listings (Upcoming)
If you are using our Page Transformation, you should upgrade this plugin to version 4.01p2 in order to let the Manage Pages of Listing Type at Back End feature work well
Demo:
Improvements
Integrate with Location-based System plugin
Add an option to use theme color or custom color for Listing menu
Integrate with Affiliate plugin
Support Advanced Search plugin
Support import large data from Listing to Multiple Listing
Update phrases of descriptions on Edit Quick Link and Listing Menu pages
Update phrase of notification item when someone is following the listing
Key features
Allow user to create listing on a specified listing type. Each listing type is a widgetized page and the layout of these types can be chosen
Allow admin to design layout for each listing type. Admin can select styles for grid view, list view, pin view and for some widgets such as Most Liked Listings, Most Discussed Listings, Most Viewed Listings and so on
Each listing type has its own categories and 2 sub-categories levels. Each category can have multiple custom fields.
Admin and users can import listings from file or from other plugins (including YN plugins and third parties plugins)
Allow user to perform many actions on listing such as: compare listing, add listing to wishlist, rate / like / comment / share listing , follow seller, mail to seller and many more actions
Admin can add custom fields for review, add criteria for listing's rating based on category
Admin can add multiple packages and config the features per package. 
Support 5 styles of listings, 2 styles of Featured Listings slider, 2 styles of category, 2 styles of Most Liked Listing / Most View Listing, Most Discussed Listings, Most Comment Listings, 2 styles of grid view / list view / pinboard view
Have some editors who added by admin to evaluate the quality of listings
Support Mobile View and Responsive
Integrate with 
Support many attractive widgets: 

Search
Category 
Tags cloud
Features listings  
Subscribe listings
Quick links (support slider style and links style)
Recent listings
Most reviewed listings
Highest rated
Most viewed listings
Most liked listings
Most discussed listings
Recent reviews
Highlight listings
Top listings in a specific category
Listing type menu
Front End
Home Page: each listing type has its own home page which contain many attractive widgets such as: Featured Listings, Shop by Category, Quick links, Most View Listings and so on. The appearance of all listing types can be different according to admin's configuration. 
Browse Listings: users can search listings on a specific listing type and see the results. Listings can be seen on list view, grid view, pinboard view or map view. On each listing, users can perform many actions such as Rate, Like, Comment, Share, Follow Sellers, Mail to Seller, Email to Friends, Print Listing, Get Direction, Add to Compare and Add to Wish List
Compare listings: users can compare listings which belong to the same category on a listing type. The comparison criteria can be set by the admin. 
View listing detail: listing detail contains many information of the listing such as general information, specification. reviews from users and editors. They can browse to Photos / Videos / Discussions tab to view more information related to this listing. Users can do all actions as listed on View all listings page

There are 5 different themes for listing owner to select when creating new listing. It means users can view listings in many attractive layout

My Listings: list all listings created by this owner. Listing owner can manage his/her listings, add more photos / videos to the slider, re-select the theme of listing, make a listing as featured listing, change package of the listing and many other actions

User can import listing from files or from other modules
User can export their listings to csv or excel

All wishlists: users can see all public wishlists of all users. By this way, they can have another view to update / enrich their wishlists
My wishlists: users also have ability to manage their own wishlists
Create new listing: before creating listing, owner has to choose the package. Owner can select theme, add general information and some custom information for the listing
Browser Reviews: users can browse the review of others users on listings
FAQs: users can view all FAQs added by admin
Back End
Global settings: admin can configure the Maximum listings can be imported each time, Fee to Feature Listing, Maximum Upload Size of Photo, Listing Menu style, the number of listing type items shown on menu, Maximum Subscribe Email and Maximum Subscribers for one Email
Member level settings: admin can configure many settings for each member level such as: the credit for creating listing, the permission for adding / editing / viewing / commenting / deletion / closing / review and rating the listing. Admin also can set the maximum listings this level can create
Manage listing types: admin can manage all listing types on this page. Listing type also has its editors who have the skills and experiences to evaluate the quality of its listings. Moreover, admin can add some quick links to get the attention of viewers to some specific listings. Last but not least, admin can change the menu style for a listing type as well as drag to reorder their positions

Edit : each listing type is a widgetized page, admin can configure the layout by selecting different widgets such as :  Select List View/Grid View/PinBoard View, Layout of Featured Listings Widget/Main Category Widget/ Most View Widget/Most Liked Widget/Most Discussed Widget/ Most Commented Widget
Member level settings : admin is able to apply the settings per member level for each listing type. 
Listing quick links: admin can add quick links to highlight some specific listings/categories of that listing type. The quick links can be a link or a slider widget as desired
Categories: admin can add categories in each listing types and each category can have up to 3 level sub-category
Listing menu: admin can change the appearance of promotion place when hovering over a listing type menu. This place contain 3 sections: Top categories, More Categories and Promotion area. Admin can pick some main / sub categories to be top categories and more categories. Admin can also change the background and content of the promotion area
Manage Pages: this is a quick link for admin to go to layout editor, focus on the current listing type page. Admin can change the layout of this listing type such as adding more widgets, change the order of some widgets, add some specific quick links and so on
Add new listing type: admin can add as many listing types as he wants. 

Manage categories: admin can manage categories, add / edit / delete main and sub categories. each category allows up to 3 levels of sub-categories. 

Comparison Settings: admin can configure the comparison settings for each main category. Users can compare two or more listings by some characteristics selected by admin. Each category can have many custom fields
Add category: when adding new category, admin can configure the icon and image of the category. Admin can also add more rating criteria and review criteria for its listing.

Manage reviews: admin can manage all reviews of this plugin. Reviews can be from either registered users or editors. Admin can view the review in details or delete some illegal reviews
Manage review editors: admin manages editors for each listing type on this page. Editors must be registered users of the community. 
Manage listings: admin can search listings and perform many actions on these listings such as: set some listings as featured listings, highlight one listing for each listing type, approve / deny / delete some selected listings, view general information of a listing as well as edit / delete / close / open it. Admin can also import listings from files or from other plugins
Statistics: admin can monitor all statistics for each listing type in this page such as total published listings, total listings in draft, total closed listings and so on. Admin also can view the graph statistics for listings, reviews, discussions, discussion posts, photos in listings, videos in listings, comments for each listing type
Manage modules: this is the place for admin to manage other integrated modules from both YouNet and third parties. When a module is available, admin can import its items to be listing items. 

Add new module: to add new module for importing data, admin has to define the module name (for example: job posting or business directory), find the database table item of this module and some column ids on the table which matched with listing title, listing description, listing main image, about us, price, location and end date

Manage packages: admin can create different packages before user can create their own listing types. Admin can edit / delete packages or hide / show some packages to make them visible / invisible to users

Add package: admin can select which member levels can see this package when creating new listing as well as its price, valid period by days, available themes. Moreover, admin can configure the maximum photos on photo sliders of listing details and maximum videos on video slider. Admin has ability to allow users adding photos / videos / discussions to listings

Import listing: listing can be imported from files (excel, CSV) or from modules which is available from manage modules page. Admin can cancel or rollback the importing process as well as view the import history to monitor the successful imported listings.
Manage transactions: all transactions for publishing / featuring listings will be seen on this page. There are some search criteria for admin to look for the transactions
Email templates: there are 4 types of messages: a listing has just been created successfully, a listing has just got approval, a listing meets the expiration, a listing has just been reviewed. Admin can add content for each type in this page
Manage Reports: this pages will list out all abusive discussion for admin's monitoring and moderating. 
Manage FAQs: admin has the ability to add / edit / delete as many FAQ as he/she wants. These FAQs will be shown for all users of the community
Question 1: Can Multiple Listing Menu be modified?
–> Answer
Question 2: How to start using Multiple Listing?
–> Answer
Question 3: How to add module in Multiple Listings?
–> Answer
Question 4: How to edit the layout of Listing Type?
–> Answer
Question 5: What are the differences between Multiple Listings and Listings modules?
–> Answer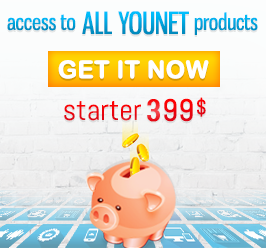 Supported Browser
IE9+, Firefox, Safari, Chrome
Support System
http://socialengine.younetco.com/client
Installation Guide
After purchase our product, an email will be sent to you immediately in which an installation guide is included to instruct you on how to install the product. If you purchase product with installation option, please submit ticket in the Client Area with FTP, site URL, and Site Admin account for us to install.
Refund & support policy
http://socialengine.younetco.com/policy
Support Time Monday-Friday, 8:30 AM-5:30 PM, GMT+7
Notice: For some reasons [email problem] that you do not receive email from us for product information, please contact us at info [at] younetco.com.