New Plugin Released: Dynamic Form – The easiest tool to create advanced forms
October 19, 2016 | 1536 Views
Looking for a way to collect appropriate information but also streamline your online communication on SocialEngine platform? A form – document with headers/fields in which which users can write/input or select content – would do that. Whether they are contact forms, order forms, application forms, or even surveys … Dynamic Form plugin suits them all. This plugin is an easiest tool to create, organize and display professional forms onto any existing SocialEngine social networks.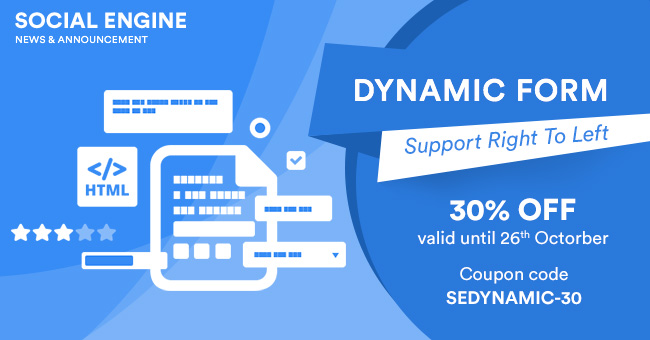 Fully Responsive Solution
Dynamic Form plugin was developed to be an out-of-the box responsive SocialEngine form solution, perfecly designed to work on any size screen. It doesn't stop at only Responsive Templates, Dynamic Form plugin is also fine-tuned to act appropriately on Mobile View environment.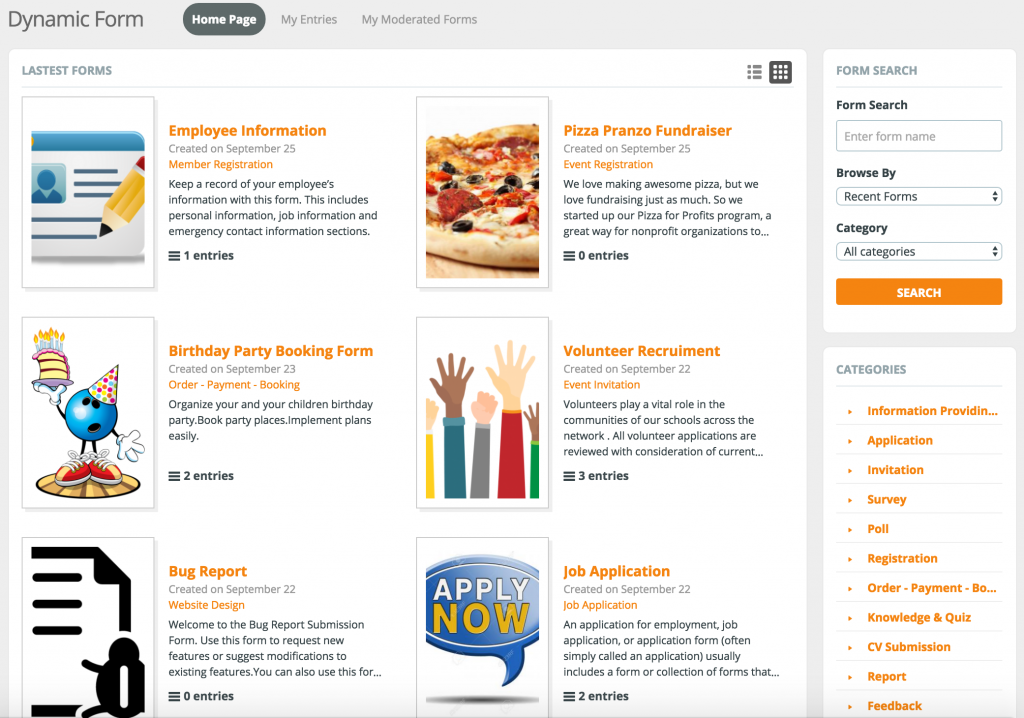 Intuitive Forms Editor
Building forms with ease! With Dynamic Form, we've brought all of the forms' elements/fields into one intuitive editor with drag&drop style. You can add new | change fields orders from a single visual view while sipping a cup of coffee. 
You can have the flexibility to create as many types of forms as you need using the provided fields. There are plenty of fields classifying in three groups: Standard Fields – same as custom fields of core SocialEngine; Advanced Fields – reCAPTCHA, File Upload, Text Editor, HTML, Content, Page Break, Section Break, Star Rating, Agreement; User Analytics Fields – hidden fields, do not appear on forms but still collecting associated data for admin – IP Address, Browser, Browser Version, Country, State, City, Longitude, Latitude.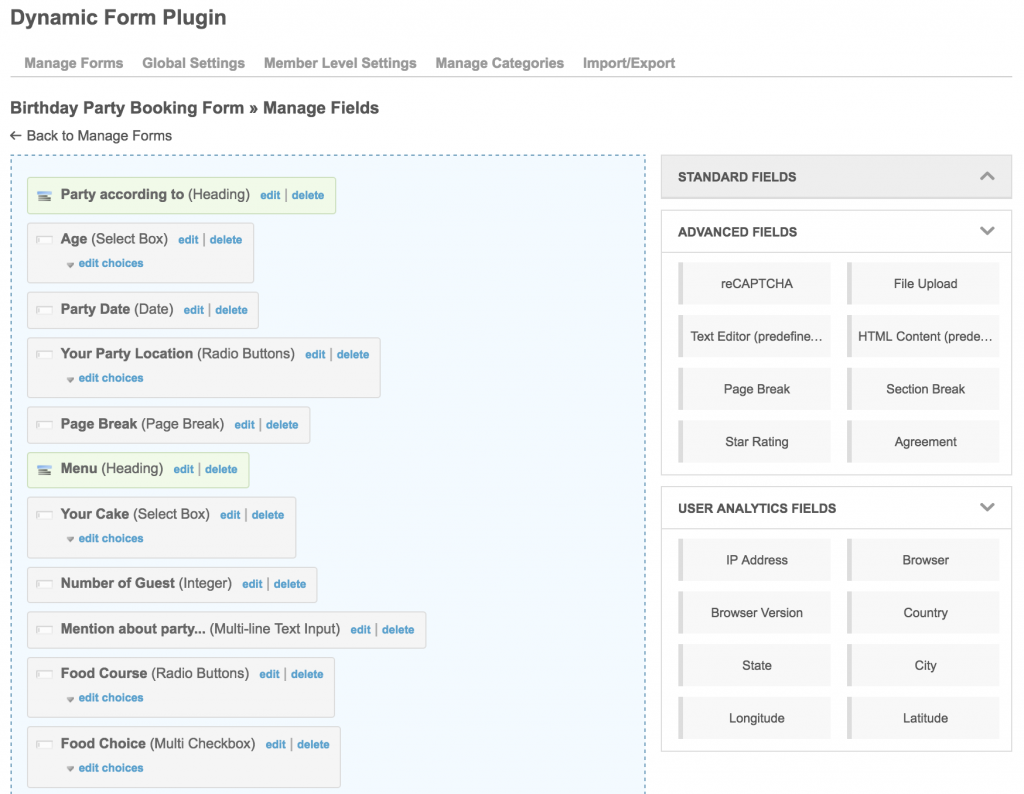 Admin Dashboard
It's so clear that the Dynamic Form is the best form creator plugin for SocialEngine platform ever, not to mention the ease of use, Dynamic Form also has a set of amazing features that has never been provided in one plugin before. One of them is the Admin Dashboard – where admin can specially configure settings on specific forms. Admin can customize Form Layout through inline CSS; customize Form Button; apply some Restrictions; define Confirmation Messages, Notifications; and even adding Moderators.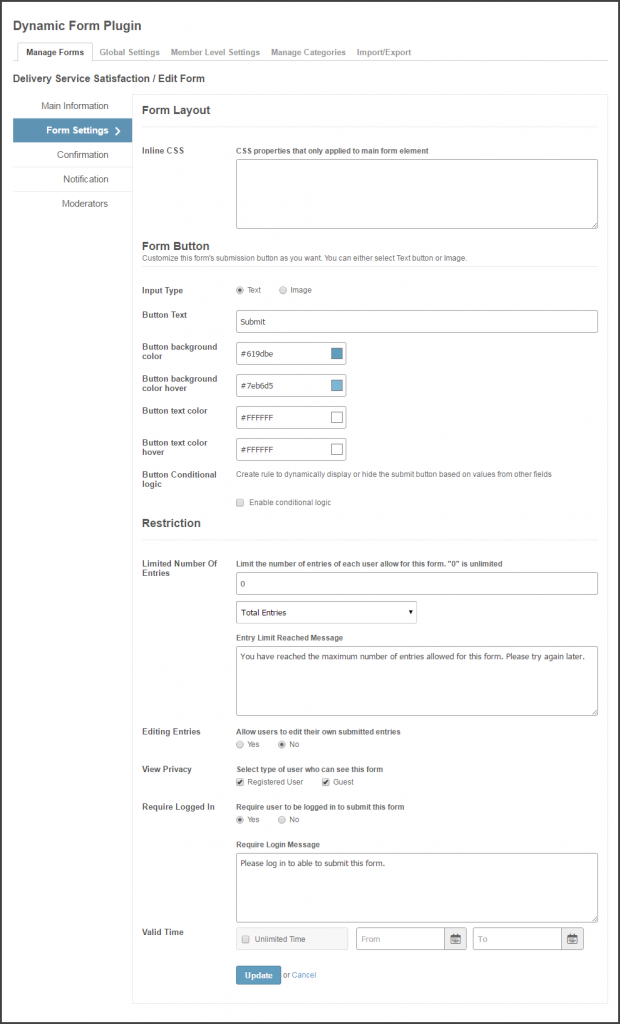 And other Key Features:
Ability to View | Comment | Like | Share forms
Ability to View | Edit | Print | Save As PDF entries
Conditional Logic to configure forms to show or hide fields, sections, pages or even the submit button based on user previous selections
Import / Export Forms

Export selected forms to an XML file and automatically save to local computer
Import XML file to quickly create forms

Widgets to display specific forms throughout the site: Related Forms, Single Form – Side, Single Form – Center
Integrate with User Credit System, Advanced Search, Advanced Feed Notification, Advanced Feed System
And many more…
To know more about our Dynamic Form plugin, please refer this post or experience it on our demo site.
P/S: To celebrate this occasion, we would like to offer 30% off on all purchases of this plugin. Kindly enter the coupon code SEDYNAMIC-30 when you order. The promotion is valid until end of Oct 26th (GMT +7).