Celebrating ALL YouNetCo products compatible with SE 4.9.x – Discount 20% OFF
June 15, 2017 | 1487 Views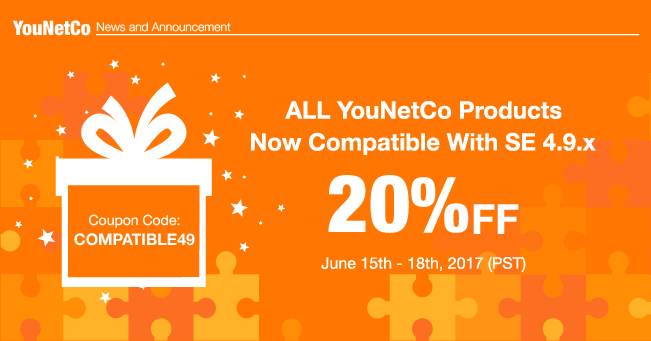 Howdy everyone,
How is your day? Today we are so excited to have the final update to you on our compatibility checking: ALL YouNetCo products are now compatible with SE 4.9.x. Our team all do understand your expectation and have been working very hard to deliver compatible products on new SE version as quick as possible.
You can download compatible versions of all products in Client Area and start upgrading your SE site from now.
Moreover, in order to celebrate this occasion, we are happy to offer discount 20% OFF to ALL PRODUCTS, including Plugins, Templates, Mobile Apps. Please use coupon code COMPATIBLE49 in your purchase. Hurry up since this coupon is only valid from June 15th to 18th, 2017 (PST).
Have questions or need assistances from us? Don't hesitate to submit tickets in our Client Area system. Our staff will reply to you very soon then.
And, please keep watching our blog. We will have more exciting news to you soon.