Be Thankful On Black Friday and Cyber Monday 2017 – Up To 40% Off On All Products
November 22, 2017 | 1826 Views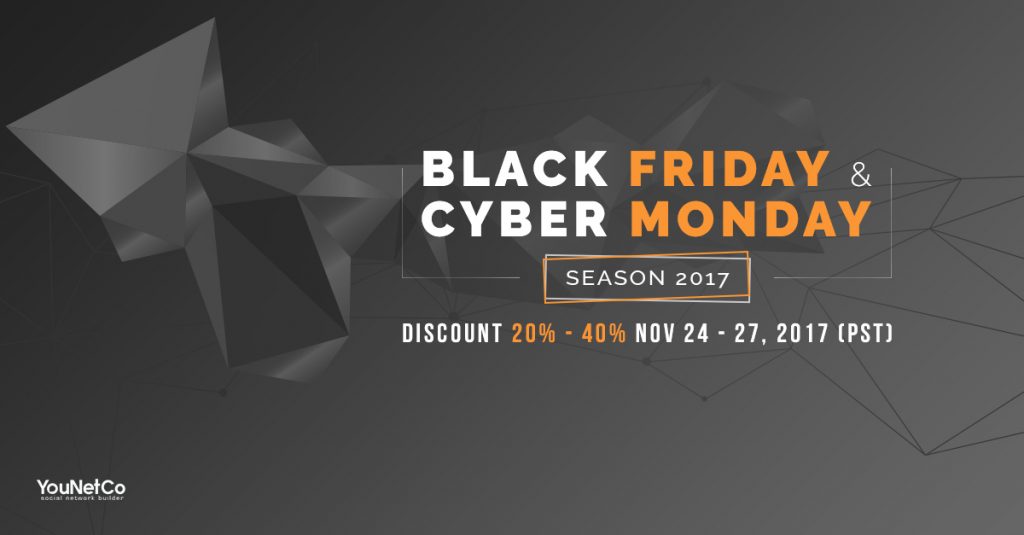 Thanksgiving Holiday season is almost here with us again. We can't wait to take this special moment to say "Thank you so much" to you, our valued clients, for your love and supports along whole year. And indeed it's our turn to show our gratitude by kicking your holiday shopping spree off with the biggest and craziest sales of the year in Black Friday and Cyber Monday season.
Our deals will happen from Nov 24, 2017 0:00 (PST) until Nov 27, 2017 23:59 (PST). And the early birds will get the best deals with these coupon codes:
YNBLAFRI17_40 – only first 5 claims to get 40% OFF
YNBLAFRI17_30 – only first 10 claims to get 30% OFF
YNBLAFRI17_20 – only first 15 claims to get 20% OFF
So move fast and grab the deals before they're gone.
What's on sale? Everything except Services
In particular, the discount code can be redeemed for purchases on all plugins, mobile app, templates or packages.
So don't get left out in the cold, set your clock, stock up your carts and countdown to the day of joys to get the best deals from us while it lasts.
Have a blessing Thanksgiving and Happy shopping on Black Friday & Cyber Monday Season!