Affiliate System is now FULLY responsive.
Increase your revenue and maximize the value from your website's visitors by introducing your subscribers and visitors to the Affiliate system. This system conveniently assists you to enhance your user shopping satisfaction within a site by letting the buyer get his desired items, the seller earn a profit through the sales, and even better an affiliate is rewarded for every subscribers or customers provided through his efforts. It is a perfect tool for you to track the referrals to your website as well as their deposits spent on your site. This is facilitated by the use of a unique tracking URL which is derived from text links on your website.
SE compatibility: 4.3.x –> 4.8.x 
Product version: 4.02p2
License key
This module requires YouNetCore plugin to verify license.
License key and YouNetCore plugin could be found under your Client Area.
Dependency:
Knowledge Base: http://knowledgebase.younetco.com/category/social-engine-products/affiliate-system
Demo: 
Improvement
Support Responsive Clean
Support edit layout of all pages in ACP Layout Editor
Key Features
Integrate with SE invitation system, member subscription, and our e-commerce modules (Social Store, GroupBuy, Auction, And MP3 Music Selling Solution)
Commission is given to an affiliate based on pay-per-sale in which an affiliate is rewarded only if his client (person who is referred to the website by the affiliate) makes a purchase on the referring website
Easy-to-register process to become an affiliate for those who are interested
Unique tracking URLs: fixed links, and dynamic links
Point system is utilized to keep track of each commission derived from the client's purchase. An affiliate can request real money (converted from points) from site admin when the amount of minimum request points is reached.
Front End
Sign up to become an affiliate
My Clients  (the persons who has registered to the network through my suggest links, dynamic link)

My Clients: there is available search bar for User to search for their own clients
Commission Tracking: lists out all the affiliate purchased from either User's clients or Clients' clients
Links Tracking: lists out all Referring URLs which User has sent out. This also displays the number of Click, Successful Registration of a specific Referring URL
My Requests: lists out the requests which User has requested to Admin for commission
Statistics: displays the Affiliate Statistic including Number of subscription, Number of Purchases, Commission Points and Requested Points
Suggest Links: lists out Referring URLs which is generated for each User to share with others users
Dynamic Links: User is able to generate a specific Referred URL by using an Destination URL, the system will automatically generate Referred URL

Manage my account

Edit my account
Request my commission from site admin
View my commission info
Track commissions earned from clients
Track successful registrations came from referring links
Keep track of real money requests
View affiliate statistics
Select available affiliate sources (text links) to refer to others
Back End
Manage Affiliate
View affiliate statistics
Approve / Deny member-sign-up-to-become-affiliate request
Delete an affiliate
View Affiliate's client details
Manage Global Settings
Allow auto-approve to become affiliate request
Enable affiliate module to integration with SE invitations
Set convert rate from points to real money
Set minimum / maximum request points: when an affiliate's accumulated points reach minimum request point, an affiliate can request for real money. And the request amount cannot be more than maximum request points
Manage Commission Rules
Set commission rate an affiliate can earn from his client's first purchase and future purchases
Manage Commission
Accept / Deny affiliate's commission collected from his client's purchase
Manage Request
Accept /Deny affiliate's commission request (real money)
Manage Exchange Rates
Set exchange rate from one currency to selected site currency
FrontEnd Video Guide
BackEnd Video Guide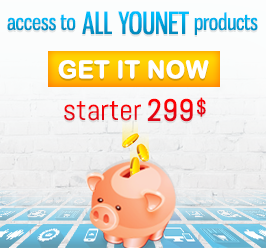 Supported Browser
IE9+, Firefox, Safari, Chrome
Support System
http://socialengine.younetco.com/client
Installation Guide
After purchase our product, an email will be sent to you immediately in which an installation guide is included to instruct you on how to install the product. If you purchase product with installation option, please submit ticket in the Client Area with FTP, site URL, and Site Admin account for us to install.
Refund & support policy
http://socialengine.younetco.com/policy
Support Time Monday-Friday, 8:30 AM-5:30 PM, GMT+7
Notice: For some reasons [email problem] that you do not receive email from us for product information, please contact us at info [at] younetco.com.