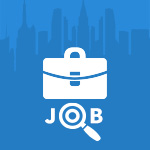 Job Posting now fully supports Responsive and Mobile View
Job Posting is integrated with Mobile Application
What makes a business oriented social network successful? By definition, business oriented social network is a place where professionals connect and share job opportunities. This is also a place where companies look for talents to work for them. Understanding the need for a plugin that helps member create and share jobs, Job Posting was developed.
Job Posting provides features that you can find on professional employment website, plus some unique features that suitable for a Social Network. For company  representatives, they can create company, post, and share jobs. For other members, they can apply for job, follow or favorite a company. One the best selling feature of Job Posting is Job Alert. Members will receive notifications whenever a new job is posted that matches their preferences. There are various widgets that help members find the jobs they are looking for such as Job You May Be Interested In, Hot Employers, Related Jobs etc. 
Best compatibility: SE 4.8.x 4.10.x
Product version: 4.02p2
License key
This module requires YouNetCore plugin to verify license.
License key and YouNetCore plugin could be found under your Client Area.
Dependency:
Demo:
Improvements
Key Features
Front – End
 Browse Jobs

Jobs are ordered and placed in different groups that help members find jobs easily
Each widget (Newest Jobs, Most Viewed Jobs, Hot Jobs) has 3 view modes 
Featured Jobs and Sponsored Companies are displayed in carousel  mode and placed near the top of the page to catch members' attention
Search box with various options such as location, salary, industry, job level etc.
Job alert box allows members to fill in their preferences which will be used to filter new jobs. Any new job that matches member's preferences will be emailed to member
Industry widget helps members narrow down their search list

My jobs

This page displays jobs that members applied or saved
A combo box on top allows members to filter what kind of jobs that they want to see

My companies

This page lists all companies that members created.
Each company has a set of options that allow creators to edit/close/delete/sponsor their companies as well as manage posted jobs, manage applications and edit submission form for each company
If a company is sponsored or featured, a little badge will show up on the upper left corner of company's thumbnail

My Following Companies

This page lists all companies that members follow

Create Job

Company Name: name of company member is going to post job for. Members need to create company first before they can post any job
Industry: this field is required mainly for search purpose
Additional information: Some additional information about the job that member is going to post such as benefit, bonus etc..
Feature Job: If this box is ticked, member is required to pay an amount set for featuring a job
Save as draft: This option provides members ability to save the job before publishing it. Once a job is published, it cannot be edited
Selecting package: a package is required in order for members to post jobs. Package can be created in admin panel

Create Company

Industry: Specify which industries that member's company is in.  Members can add multiple industries by clicking on the "plus" icon
Company name: words that people can use to refer to member's company
Description: what the company does. 
Contact Information: this is particularly important in a sense that if a potential employee wants to know more info, he/she will need some contact information
Additional Info: Some more info about the company. Members can add multiple additional sections 
Sponsor Company: Members can sponsor their company by ticking on this box. Additional fee will be charged if members tick on this option

FAQ

This page lists all FAQs created in admin panel
Members are able to view/hide question that they think does/doesn't answer their concern
Back – End
Global Settings

Settings on this page affects general outlook of job posting plugin. They affects all members of the site

Fee to feature job: amount member has to pay in order to feature a job for a day
Fee to feature company: amount member has to pay in order to feature a compnay for a day
Maximum Upload Size: size of resume members can upload
Maximum Alert Email: define how many job alert email will be sent to an IP address (maximum value is 5)
Maximum Alerts in 1 email: define how many jobs in 1 alert email (maximum value is 5)

Member Level Settings

Each member level has its own sets of settings. These settings only affects that member level only
Typical SE member level settings plus some additional Job Posting settings such as Credit integration settings,  allow sponsoring, allow job posting, allow job editing etc.

Industries

This page allows administrators to create/manage/organize industries of Job Posting plugin
Admin can add additional custom fields into industry that will appear when members post companies in that industry

Packages

This page is where admin creates/manages job packages
Add package link allows admin to add additional packages

Package name: name of created package
Description: what this package offers to users
Member levels: members in what member level can use this package
Price: amount of money members have to pay to purchase this package. 0 mean this package is free
Valid period: how many days purchased package is valid
Show?: enable this package upon creation

Manage Jobs

This page lists all the jobs posted up to current time
Admin can search for job using various filters: industry, status, featured
Various actions can be performed: feature/delete/edit/deny/approve/end

Manage Companies

This page lists all the companies ever created
Admin can search for job using various filters: industry, status, sponsored
Various actions can be performed: sponsor/delete/close/publish

Manage Transactions

This page lists all transactions include package purchase, sponsor purchase, feature purchase
Payment method filter helps admin sort through transaction easier

Manage FAQ

All FAQs are listed on this page
Admin can add/edit/delete FAQs

Manage Job Types

This page allows administrators to create/manage/organize job types of Job Posting plugin

Manage Job Levels

This page allows administrators to create/manage/organize job levels of Job Posting plugin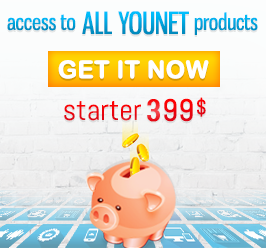 Supported Browser
IE9+, Firefox, Safari, Chrome
Support System
http://socialengine.younetco.com/client
Installation Guide
After purchase our product, an email will be sent to you immediately in which an installation guide is included to instruct you on how to install the product. If you purchase product with installation option, please submit ticket in the Client Area with FTP, site URL, and Site Admin account for us to install.
Refund & support policy
http://socialengine.younetco.com/policy
Support Time Monday-Friday, 8:30 AM-5:30 PM, GMT+7
Notice: For some reasons [email problem] that you do not receive email from us for product information, please contact us at info [at] younetco.com.