Advanced Group now fully supports Responsive and Mobile View
Advanced Group is integrated with Mobile Application
SocialEngine Basic Group plugin is basic where not many features offered for Site Administrator, Group Owners and Group Member such as Useful Links, Group Email, Group Video, External Inviter and so on. The privacy configuration is quite simple, Group Ownership could not be transferred; Permission to upload Video, Photo is able to restrict to certain member levels.
Advanced Group plugin enhances SocialEngine Basic Group; it enables Site Admin and Group Owner to secure community better when providing multiple settings on Permission and Privacy configuration. Moreover, with External Inviter, current members are able to invite their friends to join community and their groups. This would rapidly increase number of  group members and site members. Sharing feature is also more interesting when Members are able to share their Photo, Video, etc. within their group members.
The plugin now reaches to the next stage of evolution where it brings up better mobile web user experiences. Advanced Group now works perfectly compatible with our Mobile View Template. Users can easily stay social on-the-go.
Best compatibility: SE 4.8.x – 4.10.x
Product version: 4.09p3
Dependency:
License key

This module requires YouNetCore plugin to verify license
License key and YouNetCore plugin could be found under your Client Area
Notice:

This module is fully compatible with SocialEngine standard themes and YouNet themes
If you use a custom template, please submit ticket in the Client Area to get assistance from us
Knowledge Base: http://knowledgebase.younetco.com/category/social-engine-products/advanced-group
Demo: 
Improvements
Support kilometer unit in search by distance
Show information of member detail page when sharing on Facebook
Improve officer list thumbnails in group detail page
Support sub-category of groups
Hide empty widgets if there are no items existed
Supports Right-To-Left layout
Integrate with Location-Based System plugin
Compatible with Video Channel plugin
Group category and sub-category titles can be translated 
Apply theme's main color to Featured Groups widget border
Add Upload option on editor page of group discussion
Group activity settings now hide unavailable modules
Key Features
Full responsive, supported Mobile View and Responsive
Integrate with Contact Importer, Advanced Album, Advanced Feed System, Wiki, Listing, File Sharing, Advanced Event,  Social Music, Ultimate Videos
Support different views: list view, grid view, map view
Member management to approve members and make a member as officer
Announcement feature for Group owner
External friend-inviter
Useful links recommendation
Integrate Poll features
Photo slideshow on group photos; Video slideshow on group videos
Member management to assign multiple members to subgroups or to blacklist
Front End
Browse Groups

Support 3 mode views of groups : List View, Grid View, and Map View
Featured groups are displayed in slideshow
Search for groups by Group Name, Category, View (Everyone's Groups or Only My Friend's Group), Location (integrated Google Maps), Radius (mile), and their characteristics (Recently Created, Most Popular, Most Active, Alphabetical: A-Z, Z-A)
Display overall group figures in Statistic widget
Categories widget lists out all available categories and sub-categories 
Tags cloud
Additional widgets such as: Newest Groups, Popular Groups, Active Groups, Group Directory, etc

My Groups

Display all groups which have been created and have been joined by the current logged-in users
On each group, showing full information such as group name, owner name, number of member, a portion of group description
Search for groups by Group Name, Category, View (Everyone's Groups or Only My Friend's Group), Location (integrated Google Maps), Radius (mile), and their characteristics (Recently Created, Most Popular, Most Active, Alphabetical: A-Z, Z-A)
Ability to Delete/Edit or Leave Groups

Create New Group

Assign tags/keywords to each group
Selected cover photo and profile photo
Classify group by category / subcategory 
Integrated with Google Maps to define group location
Cute Name to specify another name to call the group
Option to show/hide uploaded videos in search results
Allow/Not Allow group members to invite others to join the group
Approve members settings: new members can join the group immediately or have to wait for the group owner's approval
Ability to configure many privacy on the group: view group, comment on group, photo/album creation, event creation, poll creation, video creation, and many more

Group Details

Separated sections for big group Cover Photo with Profile Photo
Stand-out Announcement slideshow and ability for members to "Mark this announcement" as read
Ability to Transfer Owner to deliver group ownership to other group members
Invitations Management let users/group owners manage their sent requests to internal on-site users (Invite Member) or external people (Invite by Email)
Members management to allow Remove Member, Make Officer, Demote Officer, Add to Blacklist

Manage users are waiting for approval
Manage members are in blacklist

Create Sub-Groups to be under other parent groups
Group Sponsors for advertising purpose
Useful links recommendation
User / group owner can perform other actions on the group such as Join/Leave, Share, Report, Edit/Delete, Message Members, etc
Other integrated pages: Albums, Videos, Events, Listings, FileSharing, Discussions, Polls, Mp3 Music, etc
Support Advanced Feed System
Additional widgets: Recent Album, Top Posters, Most Active Members, My-like Groups, etc
Support AddThis content sharing
Back End
Manage Group

List out all the groups which have been created on the site
Search for groups by Group Title, Owner Name, and their characteristics (Only Featured Groups, Only Not Featured Groups, Only Sub-Groups, Only Parent Groups)
This page displays all of the information such as ID, Group Title, Feature Status, Owner Name, Sub-group status, Number of Members, Number of Views, Creation Date
Admin can Feature/Un-feature, View, Delete or Change Owner of a group
Mass action to delete groups

Global Settings

Define number of groups will be displayed per page
Define the number of possible answering options to be allowed one each poll
Allow/disallow members to vote again on the same poll
Configure the period of time for a group to be defined as new group

Member Level Settings: managing for each member level

Configure if they can View / Create / Edit / Delete / Comment on groups
Configure the creation capability on Sub Group, Photo, Photo Album, Poll, Video, Wiki, Music, Folder, Listing
Define the number of each item per page
Ability to configure many privacy on the group: view group, comment on group, photo/album creation, event creation, poll creation, video creation, and many more

Categories

List out all available categories / sub categories
Options to Edit / Delete categories and sub-categories
Allow 2-level of categories

Profile Fields

Add more custom fields for members to declare when creating a group

Manage Reports

List out all reports about groups on the site
Options to View / Delete each report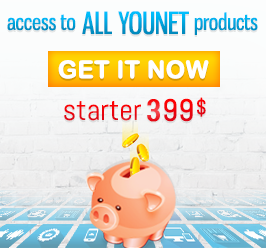 Supported Browser
IE9+, Firefox, Safari, Chrome
Support System
http://socialengine.younetco.com/client
Installation Guide
After purchase our product, an email will be sent to you immediately in which an installation guide is included to instruct you on how to install the product. If you purchase product with installation option, please submit ticket in the Client Area with FTP, site URL, and Site Admin account for us to install.
Refund & support policy
http://socialengine.younetco.com/policy
Support Time Monday-Friday, 8:30 AM-5:30 PM, GMT+7
Notice: For some reasons [email problem] that you do not receive email from us for product information, please contact us at info [at] younetco.com.