Nowadays, advertising becomes an inseparable part of a social network. Whether it's for a commercial or non-commercial purpose, advertising is a powerful tool to convey idea and perspective to users. Having an effective tool to create and manage the advertising is crucial to the growth of a social network. 
Social Ads was developed to serve this purpose. It's a powerful tool that allows administrators to create and manage ad packages effectively. Advertisers have various tools to keep track of the progress of their ads. Additionally, ads can be placed anywhere from header to footer, which provides advertisers many placement options to choose from. Variety in ad types, flexibility and full control on every aspect make social ads a prime candidate for implementing an advertising system on Socialengine platform.
Best Compatibility: SE 4.8.x – 4.10.x
Product Version: 4.01p6
Demo : http://socialengine4.demo.younetco.com/socialads/
Supported Modules :
Ads can be placed on all widgetized pages
For internal content: Default Modules and YouNet modules are supported. Other third-party modules can be added via module manage page.
YouNetCo Credit and Advanced Payment are integrated with Social Ads.
TIPS:
Improvements
Highlight Features:
Third Party modules can be integrated seamlessly
Ads can be placed on all pages
Various types of ads supported: Banner, Text, Feed
Audience targeting ads
Various payment gateways supported including Pay later option
Campaign and ad report
Admin has full control over every ads and campaign
Transaction management
Virtual Money
Key Features:
Flexible Pricing System 
Ads can be paused and resumed
Admin has full control over ads and ad package
Virtual money

Remaining amount of underachieving ads can be used for next ad campaign

Report tool and statistics
7 ad positions supported.
All widgetized pages supported.
Front End – Normal Users
Users will see ads either on activity feed or other places of a page. Photo
View FAQ
Front End – Advertiser
Create ads. Photo

Item types: 2 types of item supported

Internal: use item of a module on your site as an ads
External: Link to other sites

Ad Type: There are 3 types of ad: Text, Banner, and Feed 
Ad placement: Advertiser can place ads in as many locations as he wants.
Pricing: Pricing option is flexible. Advertiser can increase as many clicks/impressions as he wants and of course, price will increase in response to increase in clicks/impressions
Audience Setting: Advertiser can target a small number of audiences or a whole community. There are various settings such as

Age
Network
City
Country
Gender
Profile Type

Payment Method: Various payment methods are supported including pay later option

Manage Campaign. Photo

The advertiser can edit, delete a campaign, view ad of a campaign. 
Statistical data is provided for report purpose

Manage Ads. Photo 

Depending on ad's current status, advertiser can edit or pause an ad

Report. Photo

Provide detail data regarding user's ad such as number of clicks, impressions, reaches, unique clicks
Export option enables advertisers to export their report from HTML format to xls/csv format.
Provide report on all campaign or single campaign

Virtual money.

Full amount paid for an ad will only be charged if its goal is reached with the time period. If it doesn't reach its goal, only partial amount of initial fund is charged and the rest will be returned as virtual money
Advertiser can use virtual money to pay for the next ads
Advertiser can request refund in the amount of virtual money he has in his account

Payment Transaction. Photo

All payment transactions that advertiser has made will be available on this page
Back End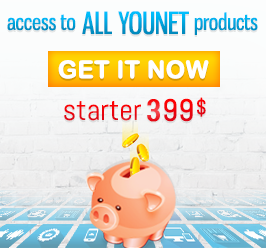 Supported Browser
IE9+, Firefox, Safari, Chrome
Support System
http://socialengine.younetco.com/client
Installation Guide
After purchase our product, an email will be sent to you immediately in which an installation guide is included to instruct you on how to install the product. If you purchase product with installation option, please submit ticket in the Client Area with FTP, site URL, and Site Admin account for us to install.
Refund & support policy
http://socialengine.younetco.com/policy
Support Time Monday-Friday, 8:30 AM-5:30 PM, GMT+7
Notice: For some reasons [email problem] that you do not receive email from us for product information, please contact us at info [at] younetco.com.