Contest is a plug-in which allows your members to compete with each other in Blog, Photo and Video contests. Each time creating a contest, contest owner can completely himself define the rules as well as the award to attract other members to take part in. Promote Contest is also a worth feature which generates a code to embed the contest to other external websites. That is to say, more people will know about your site via the contest and as a result, the traffic will be increased. However, this has not been the best feature yet. By installing Contest, you are completely able to make a little profit from its operation. Each time your members would like to publish or feature a contest, for example, an amount of money will be transferred into your account. Increasing traffic and making profit, what can be more interesting?
Best compatibility: SE 4.8.x –> 4.10.x
Product version: 4.02p8
Notice:
This module is fully compatible with SE standard themes.
If you use a custom template, please submit a ticket in the Client Area to get help from us.
License:
This module requires YouNetCore plug-in to verify the license.
YouNetCore plug-in could be found in our Client Area
Knowledge Base: 
Demo: http://socialengine4.demo.younetco.com/contest
Improvement
Support customize Addthis Button from YouNetCo module
Integrate with YouNetCo Social Music plugin
Integrate with YouNetCo Ultimate Video plugin
Support to add a location for contests with Google places.
Integrate with Location-based System plugin
Key Features
Contest types with Photo, Blog, Video, and Mp3 Music
Promote contest by embedding it to other external websites
Addthis widget to share contests on social networks
Charge fee on contest's operation
Extend contest type with Music Contest
Update layout for Contest Homepage (smoother slideshow), and Contest Detailed Page
Offer different layout presentations for different contest types.
Friend's contest menu for quick access
Tightly integrated with Music/Mp3 Music for Music contest type
Anonymous entry voting
Time constraint for Voting and Entries Submit
Widget: "Most voted entries", "Most Viewed Entries"
Support Advanced Payment
Integrate with Affiliate System, Social Music, Ultimate Video, Location-based System, Advanced Album
Front-End
All Contests. 

Featured contests are displayed in slideshow. Owners have to pay a fee to put their contest here.
Ending Soon Contests: list out contests that just happen in a short time. Owners have to pay a fee to put their contest here.
New Contests: list out contests that have just been created
Top Contests: list out contests that are viewed the most.
Hot Contest: list out contests that are participated the most.
Premium Contests: list out the contest that were registered premium service. Owners have to pay a fee to put their contest here.

My Contest

My Contest: list out all the contests that were created by the current logging in a user.
Favorite Contests: list out current logging in user's favorite contests.

Follow Contests: list out contests that current logging user followed.
Contest Statistics: figures about contests of current logging in a user.
Manage Transaction: list out all the transactions that current logging in user made on a specific contest.

My Entries. 

List out all the contesting materials that current logging in user created.

Create New Contest:

Basic Information: 

Contest Name: type in the name of the contest
Description: type in a short description about the contest
Contest Type: Photo, Video, Blog, and Music
Contest Photo: upload a photo to model the contest
Configure Start and End date of the contest.
Contest Category
Voting and submitting allowed period 

Time constraint for Voting and Entries Submit

Award: define the award that winner will receive.
Terms and Conditions: create rules to be applied into contest
Winner Congratulation: a brief message that will be automatically sent to the winner.

Contest Settings: 

Configure contest's privacy:

Allow members to leave comments on contest
Allow members to leave comment on entries
New entries need approving or not.
Sent an email to the owner when an entry posted into his contest.
Define the maximum entries that a member can post in a contest.

Publish Contest: 

What kind of service would you like to register for your contest?

Publishing fee: pay fee to make contest visible to all users
Feature fee: pay fee to make the contest featured
Premium fee: pay fee to make the contest premium
Ending soon fee: pay fee to put the contest in Ending Soon block

Friend's contests.
Back-End
Manage Contest: List out all the contests  created on your site
Contest categories management.
Statistics: Figures about Contest's operation.
Member Level Settings: Choose a member level and configure their rights.
Global Settings: 

Switch between Sandbox mode and real mode
Define how long a contest must last to be considered Ending Soon
Define the number of contests that will be shown per page
Configure if admin has to approve a contest or it will automatically be

Gateway: 

Edit gateway's API
Turn on or off a gateway

Transaction: List out all the transactions made on your site.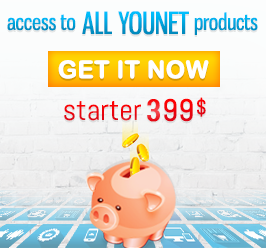 Supported Browser
IE9+, Firefox, Safari, Chrome
Support System
http://socialengine.younetco.com/client
Installation Guide
After purchase our product, an email will be sent to you immediately in which an installation guide is included to instruct you on how to install the product. If you purchase product with installation option, please submit ticket in the Client Area with FTP, site URL, and Site Admin account for us to install.
Refund & support policy
http://socialengine.younetco.com/policy
Support Time Monday-Friday, 8:30 AM-5:30 PM, GMT+7
Notice: For some reasons [email problem] that you do not receive email from us for product information, please contact us at info [at] younetco.com.