Mp3 Music Selling Solution
$120
MP3 Music Selling is now FULLY responsive.
Through Mp3 Music Selling Solution, members are allowed selling or buying music with online payment on Social Engine Site. Besides, Artists can upload music to share or sell their music. These activities, therefore, enable to increase the number of members on the social network site. Especially, site owner can earn commission for each transaction. Through wide range options, the site owner can manage music selling business working on their site with ease.
Best compatibility: SE 4.8.x –> 4.9.x
Product version: 4.06sp6
License Key:
This module requires YouNetCore plugin to verify the license.
License key and YouNetCore plugin could be found under your Client Area.
Notice:
Payment Gateway support: Paypal, for other payment gateways, please contact us for custom work.
This module is fully compatible with SE standard themes and YouNet themes.
If you use a custom template, please submit a ticket in the Client Area to get help from us.
The package contains 2 parts: Mp3 Music and Mp3 Music Selling feature sets
Dependency:
Knowledge Base: http://knowledgebase.younetco.com/category/social-engine-products/mp3-music-selling-solution
Demo: http://se4musicselling.demo.younetco.com/mp3-music
Improvement
Key Features
Layout of uploaded music, shared music, creation of playlists when viewing member profile page
Enable members to download full albums and to share individual tracks
Allows to upload single tracks or an album
Enlarging of album art on player album page
Integration with YouNet Affiliate plugin.
Ability for Seller to set trial for Selling Song
Option to set owner of album is artist
Album List widget
Disclaimer page before uploading a song
Admin can import database from Mp3 Music to Mp3 Music Selling
Fix tooltip displayed
Disable 'Cart' icon when user does not have Finance account
Transaction Tracking panel has pagination
Use HTML5 to replace Flash
Support Storage Services (Amazon S3)
Able to create sub-categories
Feature an album
Subscribe a specific member to receive updates when they have new music. View Photo
Display featured albums in slideshow mode.
Apply transition effect into slideshow mode.
Being compatible with mobile
Able to set Term and Condition in BackEnd
Integrate with Advanced Feed System
1. Mp3 Music
2. Mp3 Music Selling
Front End
Browse Music. View Photo
Featured albums are displayed in slideshow with transition effect
Many Blocks to display elements: New Playlist, Top Songs, Top Download, Top Albums, New Albums, Song List, Singers, Artists.
Category Block to classify songs
My Music. View Photo
Display albums created by current logging in user.
Being able to edit or delete a specific album.
My Playlists. View Photo
Display playlists created by current logging in user
Being able to add more songs to a specific playlist
Being able to edit or delete a specific playlist
Set a playlist to be played in current logging in user's Profile Page
Upload Music. View Photo
Agree with the "Term and Condition" first.

View Photo

Upload Track
Upload Album
My Account. View Photo
View Transaction History
User Information
Summary
Sold Item Summary
Cart. View Photo
List out songs that current logging in user is about to buy
Being able to Play Preview, Add song to a specific playlist or remove the song from cart
Download List. View Photo
List out songs that are ready to be downloaded
Button to play a whole specific album
Button to view all songs in a specific album
Button to remove a specific album
View an album. View Photo
Addthis widget to share the album on other social networks
Button to Buy Album
Ability to rate the album
Button to download (if allowed), add to playlist or add to cart a specific song
Add lyric into a song
Embed

URL Link to share directly with friends
HTML Code to embed to other websites
Forum Code to embed to forums
Back-End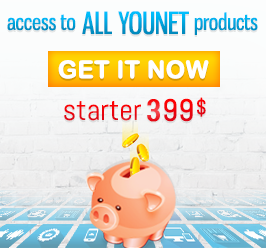 Supported Browser
IE9+, Firefox, Safari, Chrome
Support System
http://socialengine.younetco.com/client
Installation Guide
After purchase our product, an email will be sent to you immediately in which an installation guide is included to instruct you on how to install the product. If you purchase product with installation option, please submit ticket in the Client Area with FTP, site URL, and Site Admin account for us to install.
Refund & support policy
http://socialengine.younetco.com/policy
Support Time Monday-Friday, 8:30 AM-5:30 PM, GMT+7
Notice: For some reasons [email problem] that you do not receive email from us for product information, please contact us at info [at] younetco.com.