Member Management System
$35
If you are an admin of a social network, Member Management will be an excellent tool for you to manage your members more effectively. This plug-in provides you with multiple methods to manage your members by using usernames, email addresses, and IPs. With Member Management, you are able to save your time and effort by granting management member permission to any other member levels. In addition, this tool also enables admin/moderator to send notice or warning message to each member or even BAN/UNBAN a member.
Member Management not only improves your effectiveness in managing your members but also helps you prevent spam activities and increase the quality of content in your social network.
SE compatibility: 4.8.x – 4.9.x
Product version: 4.01p4
License key
This module requires YouNetCore plug-in to verify the license.
License key and YouNetCore plug-in could be found under your Client Area.
Demo http://socialengine4.demo.younetco.com/banmem
Key Features
Enable admin/moderator to ban members by usernames, email addresses and IPs with ban period and reason
Admin/moderator is able to set permission for other user groups to manage members
Send and manage notice/warning messages to all members with option to use admin/moderator's email or use site admin email
Add block to members profile page to display extra info: user ID, IPs, email address
Add option in member profile page to allow admin/moderator to ban/unban, add note, delete account and log in as a member 
Front End
Back-End
Member Level Settings: View Photo

Enable admin/moderator to configure ban management settings for each member level
1. How to send notice to users?
-> Answer
2. How come my member can't see member management menu?
-> Answer
3. How to ban IP address?
-> Answer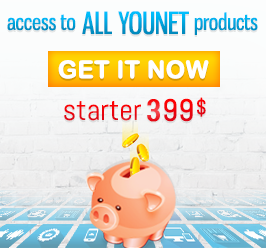 Supported Browser
IE9+, Firefox, Safari, Chrome
Support System
http://socialengine.younetco.com/client
Installation Guide
After purchase our product, an email will be sent to you immediately in which an installation guide is included to instruct you on how to install the product. If you purchase product with installation option, please submit ticket in the Client Area with FTP, site URL, and Site Admin account for us to install.
Refund & support policy
http://socialengine.younetco.com/policy
Support Time Monday-Friday, 8:30 AM-5:30 PM, GMT+7
Notice: For some reasons [email problem] that you do not receive email from us for product information, please contact us at info [at] younetco.com.