Social Stream allows users to get activities from their Facebook's Walls and Twitter such as new feeds, tweet, photo, video and event they have been tagged by others and so on. With Social Stream, users are able to set privacy for feeds in order to show to friends or to public
Social Stream not only keeps your members stay longer in your site but also create the connection with other social websites in order to attract more members.
SE compatibility: 4.5.x –> 4.8.x
Product version: 4.02p2
Notice:
This module is fully compatible with SE standard themes and YouNet themes
Due to Facebook API update, you need to apply for read_stream permission in order to get feeds from Facebook. Refer to Facebook documentation for more information https://developers.facebook.com/docs/facebook-login/permissions/v2.1
Note: There's a good chance Facebook will deny granting this permission. For those of you who purchase Social Stream between Sep 1st 2014 and Oct 1st 2014 but fail to acquire read_stream permission from, we'd offer you an exchange for other products
If you failed to obtain above permission, we'll exchange this product for other product (less or equal value) of your choice.
If you use custom template, please submit ticket in the Client Area to get help from us.
Due to the change of LinkedIn, this plugin is not supported LinkedIn. 
License:
This module requires YouNetCore plug-in to verify license which could be found on  Client Area
This module requires Social Bridge 4.02 or higher, which could be found on Client Area
Demo: http://socialengine4.demo.younetco.com

 Improvement 
Get friends' feeds from other social networks. 
Privacy settings for getting feeds
Post comment in a received feeds to other social networks.

View Photo

Allow admin to configure default setting for each provider. 
 Key Features
Feeds from Facebook and Twitter are preserved on Activity Feeds and Member Profile Page after Social Stream is disabled.
Receive Facebook and Twitter feeds to show on home page and member profile page
Allow user to manage social accounts
Add icons for Facebook and Twitter to allow user to update feeds manually 
Front End
Home Page: View Photo

Facebook and Twitter icons:

Allows user to update  feeds manually

Icon on each feed:

Indicates where the feed come from

Profile Page:

View Photo

Show Feeds on Profile Page same as Home Page

Manage Social Account:

Connections: View Photo

Provide option to connect multiple social accounts

Social Stream Settings: View Photo

Get Feeds: members are able to enable or disable option to get feeds from a social network.
Privacy Settings: control who can see feeds received from other social network.
Feed Source: whose feeds you can get from.
Back End
Manage Social API Keys on Social Bridge: View Photo

Provide admin the ability to set API keys to enable or disable a provider. 

Global Settings on Social Stream: 

View Photo

 
Member Level Settings on Social Stream: View Photo
1. How to apply for Facebook permission?
-> Answer
2. How to disallow members from a member level to get feeds?
-> Answer
3. How to create Test User for Facebook permission review process
-> Answer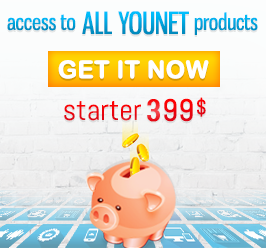 Supported Browser
IE9+, Firefox, Safari, Chrome
Support System
http://socialengine.younetco.com/client
Installation Guide
After purchase our product, an email will be sent to you immediately in which an installation guide is included to instruct you on how to install the product. If you purchase product with installation option, please submit ticket in the Client Area with FTP, site URL, and Site Admin account for us to install.
Refund & support policy
http://socialengine.younetco.com/policy
Support Time Monday-Friday, 8:30 AM-5:30 PM, GMT+7
Notice: For some reasons [email problem] that you do not receive email from us for product information, please contact us at info [at] younetco.com.